Sign up for what's worth reading.
Subscribers receive a curated selection of popular and hand-picked articles every day.
Please enter valid email.
By clicking 'Sign Up' you are agreeing to the privacy policy and terms of use for Recommended Reads.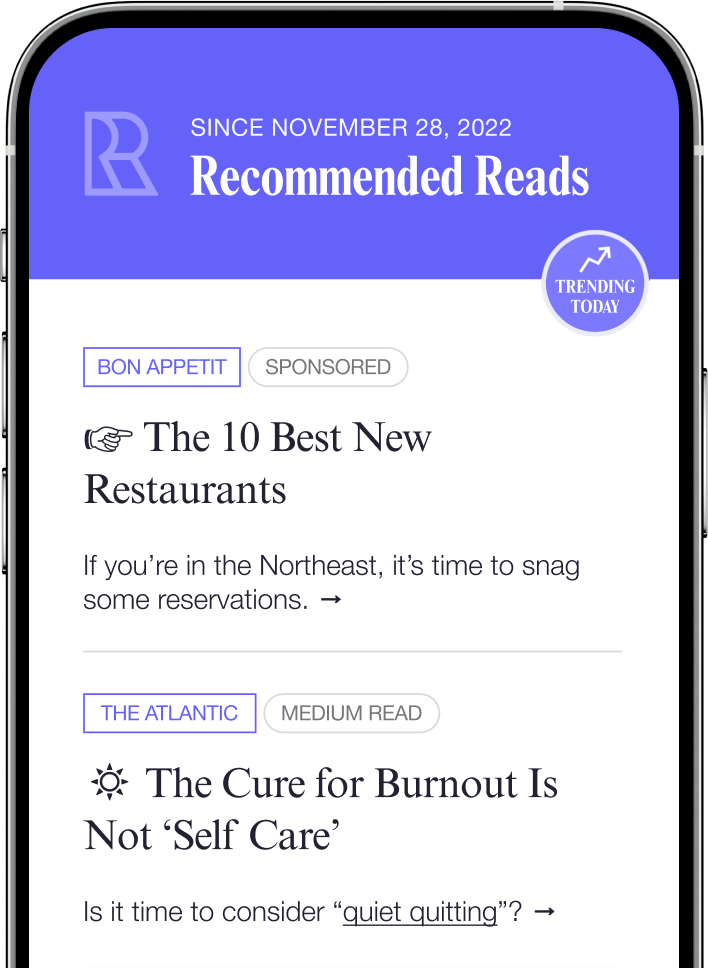 Did you know…
More than 2 billion websites exist. That's six sites for every person in the U.S. Simply put, we have more content than we could ever consume. How do you find the articles worth reading?

With a little help from Recommended Reads.
Please enter valid email.
By clicking 'Sign Up' you are agreeing to the Privacy Policy and Terms of use for Recommended Reads

A curated experience just for you
At Recommended Reads, we look at performance metrics to find standout articles from reputable publishers. After you subscribe, you'll receive a few of these in your inbox every day. We cut through the clutter and junk to bring you the stories everyone is reading. We'll even send you some curated picks so you can read soon-to-be-popular articles before everyone's chatting about them.
Recommended Reads delivers what's worth reading. That's our promise.
Sign up today so we can prove it to you.
Please enter valid email.
By clicking 'Sign Up' you are agreeing to the privacy policy and terms of use for Recommended Reads